Terms & Conditions (Please Read and scroll down to checkout)
Note on Drainage and Substrate Trays:
 The drainage and substrate trays are for indoor use only. Black PVC absorbs sunlight and will warp if left out in the sun or exposed to high heat. Do not sun dry the tray after cleaning.
Schedule:
With an extensive product line such as we have we are in constant manufacturing of the different cages. We have many products in stock and these usually go out within 48 business hours of your order. If we run out of inventory of a certain cage before the next build there might be a number of weeks before we can ship. If your order is time sensitive please email to dragonstrand@gmail.com to check on shipping time before ordering.  If there is wait then your placed order is a guaranteed inclusion in the next build. Build schedules are estimates. They are as accurate as possible at the time, but often shift. 
Note: Clearside cages are built on an every other month basis. If there are none left in inventory, placing an order will reserve your cage in the next build.
Payment:
1) Credit Card. You do not have to have a Paypal account to purchase product. If you would like to pay via credit card then follow the Paypal payment button and it will provide you with the option to use a credit card without a Paypal account. Follow the PayPal screens until you come to the part where you must enter in an account name (shown below). Select "New to PayPal" and you can checkout with just your credit card.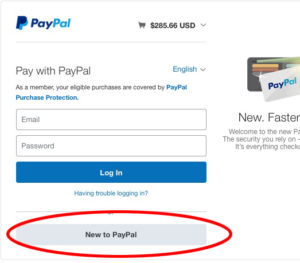 Shipping:
1) Signature. On the checkout page (the next page) you'll be asked whether you would like to sign for your package. This is to combat the growing trend of people following delivery trucks to steal packages left at the door. We prefer to send packages with signature required because that allows us to verify that you received the package. Alternatively, If you feel your doorstep is safe and are willing to accept the delivery notice from the shipper that the package was delivered as proof of delivery then we'd be happy to send the package without signature requirement.  A requirement for signature is an inconvenience, but such is the world that it is necessary. We cannot change the signature requirement once the product ships, but if you find you are not able to be there you can call FedEX with the tracking number and ask them to hold it at a FedEX location for pick up. If we have to send you a follow up package we will use the same setting chosen on your order unless specifically requested otherwise.
2) Shipping Methods. Most orders will have two shipping method options. FedEX means I will ship FedEX and if this is your preferred shipment method then select this option. Standard Shipping means that it will ship by USPS, FedEX, or UPS. I strive to have two cost choices and rotate which one is represented in the Standard option. Some providers are better with large packages and some with small.
3) PO BOX Address. If you have a PO BOX address you must select Standard Shipping & Handling as your shipping method. The FedEX API will return a shipping cost, but FedEX will NOT deliver to a PO BOX. This is a bug in their system and they have not yet fixed it.  If you do enter a PO Box and choose FedEX I will notify you that I need a physical address. If one is not available you will have to pay the Standard shipping rates or I will refund your order.
4) Special Shipping Instructions. The delivery person will make their best judgement when leaving the package. Any special instructions as to where they should leave the package can not be guaranteed to be followed. 
5) Shipping Damage. There are occasions where the shipping provider damages the box and contents.  In this case, send me pictures of both the damaged cage pieces and any damage on the box. In case of damage, please inspect the entire contents of the box and let me know the entire scope of damage at one time.
6) Returns. Returns are accepted on unopened boxes. We will refund the product cost when we receive the product back in new condition. We cannot refund the shipping cost for any leg of this journey.
Your cart is currently empty.