Description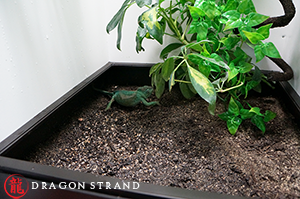 The Dragon Strand Laying Box is a product uniquely designed to address the needs of egg laying females in a captive breeding environment.  Compatible cages rest on top of the laying box giving your female full time access to a 9.5 inch digging depth across 323 square inches in the female's comfortable environment.  The cage is easily lifted off if you want digging media to be available only during certain times or want to share a bank of Laying Boxes amongst a group of females.
Both the 36" Dragon Strand Medium Tall Breeder and Keeper cages are compatible with the Laying Box.  If you already have a 36" cage from another manufacturer it may also be compatible.  The inside dimensions of the laying box are 18.25" wide (the front) and 17" side length with a .5" lip inside for the cage to rest on.  Measure your cage to verify.  Do not rely on the listed dimensions as retailers may round the numbers for ease of identification.
Note: Place the Laying Box in its intended place before filling with digging media.  The box will get very heavy depending on your media mix and will become difficult to move.  This box is designed to hold laying media in a static position.  It is not designed to transport soil and may crack if used to carry a full load of dirt from one place to another without proper support.  This goes for your back as well.   Really.