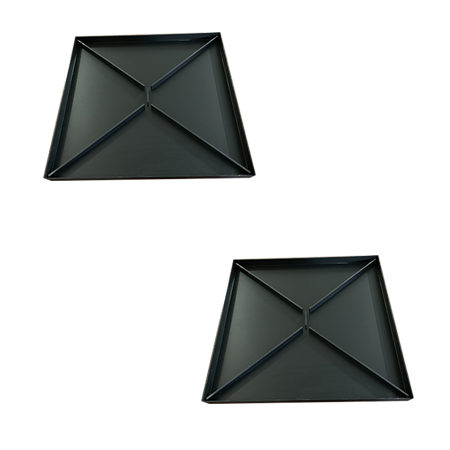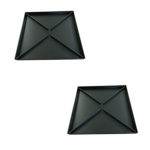 2 * X-Large Cage Drainage Tray Bundle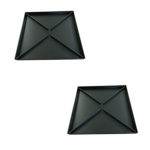 2 * X-Large Cage Drainage Tray Bundle
$118.00
$118.00
NOTE: This product is a bundle of two X-Large Cage Drainage Trays. Each of this item you order will deliver two trays.
This product is a Drainage Tray that will fit under the Dragon Strand X-Large Breeder Cage and X-Large Vivarium cage. This tray is designed to support the bottom of the cage floor in multiple places. In this way it may accommodate a number of potted plants or cage decorations on the bottom of the cage.
The floor that comes standard with the cage is used inside the cage and the entire cage rests on top of the drainage tray supports. The water in the drainage tray either evaporators or else a wet-dry vac with a crevice tool can be used. There is enough room to the sides of the cages to insert a crevice tool. Alternatively, you may simply open the service door, let the cage floor panel, and stick the vacuum nozzle under the floor for easy water extraction and minimal disturbance to the cage inhabitant.
Warning 1: For indoor use only! Black PVC absorbs sunlight and will warp if left out in the sun or exposed to high heat. Do not sun dry after cleaning.
Warning 2: Do not lift the drainage tray with the cage on top. It is designed to support the cage with downward force, but it is not designed to be lifted with the weight of the cage on it.
Description
Additional information
Description
This drainage tray has been designed to be compatible with the Dragon Strand X-Large Breeder Cage and X-Large Vivarium cage only. This product comes with a Drainage Tray that your cage sits on top of to keep the waste water from being accessible to the cage inhabitants.
Outside Dimensions: 25″ Wide x 23.75″ Deep x 1.75″ High
Inside Dimensions: 24.625″ Wide x 23.5″ Deep
(Width is the front dimension from side to side and Depth is the side dimension from front to back)
This drainage tray has supports that keep your cage from the drainage water and will raise your cage 1.25″.
Make sure your counter space is big enough for the outside dimensions and your cage fits within the inside dimensions.
This design is unique with its "X" support pattern giving it ample support all along the bottom.  These thick supports allow potted plants to be placed in the cage without fear of the cage bottom falling through.
The front edge is lowered to allowed use of the lower flip door on the cages while the sides and back are slightly higher to ensure the cage can not easily be pushed off the tray.
Additional information
| | |
| --- | --- |
| Weight | 12 lbs |
| Dimensions | 26 × 26 × 8 in |