$340.00
This Bundle contains the Medium Atrium Clearside Cage, Dragon Ledges and the Drip Easy Drainage System.
The Medium Atrium cage was specifically designed to provide the horizontal room needed for the comfort of chameleons all the way up to a male Veiled and Panther Chameleons. This cage has clearsides on the front, right side, and back.  The left side is a screen panel to provide necessary ventilation.  Please reference the page on the Clearside material to become familiar with it.  It is a durable, flexible clear PVC pulled taut like the screen panels.  It is more durable than the screen that it replaces.  See the
Clearside Product Page
This bundle comes with Dragon Ledges and the Drip Easy Drainage System.  The Drip Easy was pioneered by Ed Kammer of Kammerflage Kreations and we are excited to be able to work with them to offer this functionality.
The Drip Easy Drainage solution replaces the standard solid PVC bottom panel with a screen panel allowing water to go directly into the included Drainage Tray. The Drainage Tray dimensions are 29.5″ Wide x 20″ Deep x 1.75″ High
Dragon Ledges allow the mounting of large branches and potted plants with no stress on the clear and screen sides.  You can now create lavish interiors for your chameleons to enjoy!  The Dragon Ledges come uninstalled so that you may place them where you decide is best for your creation.
Warning:

 The drainage tray is for indoor use only! Black PVC absorbs sunlight and will warp if left out in the sun or exposed to high heat. Do not sun dry after cleaning.
The Dragon Strand Medium Clearside Atrium  Enclosure is 28.5″ wide, 29.5″ high, and 18″ deep.  It comes with the standard Dragon Strand features including the following
No rusting parts.
Service Door for cleaning the cage with minimal disturbance to the chameleon
Door handles on both main and service door
Vines holders on the top panel
Purchasing the cage from this page will get you the Medium Clearside Atrium Cage, Dragon Ledges and the Drip Easy Drainage System.
---
Important Note: The Clearside material is a specialty product and the fabricating of the cage is a time consuming process. We do a build roughly every other month of these cages. Please check for the schedule. Once you place an order you are guaranteed to be included in the next build. If you would like to monitor progress, please sign up for the bi-weekly newsletter.
---
 Downloadable Assembly Instructions:
New Assembly Guide for the Medium Atrium!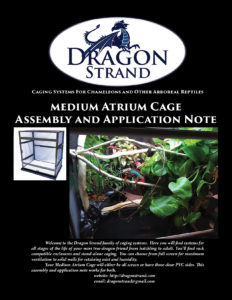 Out of stock
Additional information
| | |
| --- | --- |
| Weight | 30 lbs |
| Dimensions | 31 × 31 × 10 in |